We were lucky that Microsoft MVP Peter Myers was able to join us at SQL Saturday Silicon Valley in March. Peter was formerly a mentor with SolidQ and is now on his own. He travels worldwide speaking and training on SQL Server topics. He's an expert in OLTP database design and Microsoft Business Intelligence with SQL Server and SharePoint. He's also an evangelist for PowerPivot and Power View.
PowerPivot is an add-in for Excel 2010 that empowers business users to create their own tabular data models. It's an add-in for Excel that enables you to import millions of rows of data from multiple data sources into a single Excel workbook. From the workbook, you can create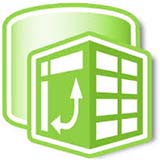 relationships between heterogeneous data, create calculated columns and measures using formulas, build PivotTables and PivotCharts, and analyze your data to make business decisions. It can turn your workbooks into industrial strength apps and allows you to handle massive volumes of data in Excel. PowerPivot is a Free Extension to Excel 2010 and 2013.
Power View is an interactive data exploration, visualization, and presentation tool that delivers an intuitive ad-hoc reporting experience for business users. Power View encourages intuitive ad-hoc reporting. It is a browser-based Silverlight application launched from SharePoint Server 2010 that enables users to present and share insights with others with interactive presentations.
Update: As of 2016, you'll see exciting new features in Power BI Desktop.