Food and Beverage / CPG Solutions
Food and beverage data services from supply chain to traceability
Our team has a broad range of experience developing food and beverage and CPG solutions. Food and beverage companies need the right tools for modern resource planning and decision-making.

Our clients include:
Annie's - Organic food company owned by General Mills
Columbus Foods - Manufacturer of premium, Italian-style dry cured and cooked deli meats
Jamba Juice - Restaurant chain offering blended fruit and vegetable juices, and smoothies
Kendall-Jackson - Leading vineyard and winery wine located in the Sonoma Valley
Mezzetta Foods - California food processor and bottler of olives and pasta sauces
OLLY - Vitamin and dietary supplement company owned by Unilever
Treasury Wine Estates - Australian global winemaking and distribution business
YottaMark - Traceability and authentication solutions for food suppliers
Supply Chain Management
DesignMind develops web-based applications that help distributed organizations with more effective inventory tracking to save time and money, streamline warehouse management, and get products to market more quickly.
Manufacturing Management
We implement solutions that maintain quality assurance standards, coordinates deliveries, optimizes scheduling, minimizes product waste, and streamlines your operations. Solutions that we have implemented have significantly reduced waste and saved millions for our food customers.
Food Chain Traceability
We can develop seamless food and beverage traceability, lot control, and recall management capabilities to keep your business within compliance and legal mandates. Being able to trace food back to its origins can be crucial to government and industry during a food-related recall or outbreak. Our engineers have helped our customers quickly identify the product, which lots are involved, where they were shipped, and where they are now. Quality assurance and management are also important to comply with federal and local food safety regulations.
Vineyard & Grower Management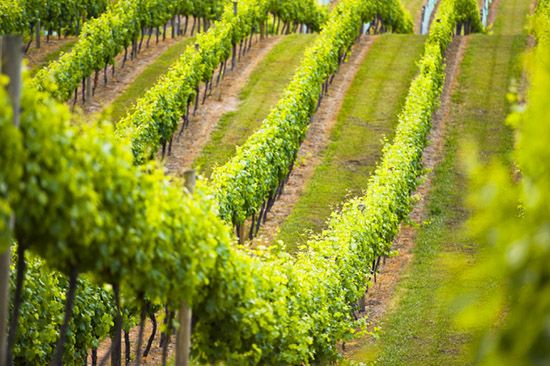 Our vineyard management services include financial data, year to date comparisons, seasonal conditions, harvest data, tank assignments, and hours processed. Cost tracking allows producers to know exactly how much a bottle of wine costs to produce.
Inventory Management
Our Business Intelligence consultants can help your organization analyze stock, pricing, composition, and point of sale data. Lot tracking functionality and bin management ensures that all materials are managed and accounted for throughout the warehouse life cycle.
Contact us to learn more about our Food and Beverage Solutions.