Tableau Data Visualization
Data visualization helps people see and understand data
Tableau offers a revolutionary new approach to business intelligence and allows users to quickly connect, visualize, and share data with a seamless experience from the PC to the iPad. Business users can create and publish dashboards and share them with colleagues, partners, or customers easily.
Tableau Server is an online solution for sharing, distributing, and collaborating on business intelligence content. Users can create workbooks and views, dashboards, and data sources in Tableau Desktop, and then publish this content to the server.
Tableau makes databases understandable to ordinary people
Technology has made data visualization more prevalent and powerful than ever before. With Tableau, you can create interactive dashboards that allow you to slice, dice, and analyze data in real time. Good business Intelligence ensures that the right information gets to the right people, at the right time, via the right channel so that makes your entire organization works smarter and becomes more productive.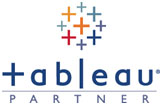 Recently we used Tableau dashboards to visualize statistics for the fire safety industry. You can see how we used the analysis and visualization capabilities, as well as an AWS cloud-hosted and open-source infrastructure, in our FireStats case study. FireStats is a consulting firm specializing in the analysis of fire data for fire-fighting professionals.
DesignMind is a Tableau Alliance Partner. You can see some great examples of Tableau visualizations here.
Tableau as a SQL Server Analysis Tool
The ease of use and multitude of data source connections makes it a great compliment to other platforms such as SQL Server and SQL Azure. You can use Tableau as your SQL Server analysis tool to easily:
Connect natively to any SQL Server schema
Take the load off critical infrastructure with in-memory data storage
Support SQL Server data security rules
Provide data visualization for SQL Server data with drag & drop ease
Create scheduled and as-needed report updates