Power BI Dashboard In An Hour is a hands-on, high-level introduction to Power BI. In just a an hour (or two) you'll get hands-on experience using Power BI, including building visualizations and a simple dashboard.
We're delivering this training at the Microsoft offices in San Francisco and Mountain View. Microsoft has put together this condensed training program, including a collection of files to practice building data visualizations. Anyone who attends will get a crash course in Power BI and practical hands-on experience. Whether your data is as simple as an Excel spreadsheet, or a more complex collection of cloud-based and on-premises hybrid data warehouses, you can use Power BI to visualize data.
What's the Story Behind Power BI Dashboard In An Hour?
"Dashboard in an Hour" and "Dashboard in a Day" are programs that Microsoft updates monthly to show off new features and make available to user groups and Power BI partners to offer to their customers.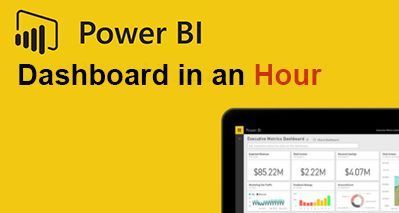 During Power BI Dashboard In An Hour, you'll use Power BI Desktop to explore and create an interactive report and visualizations. If you're new to Power BI, you'll see how powerful and simple it is to visualize data. If you're already a Power BI user, you'll probably learn some new tricks.
Trainer Eric Bragas is a BI Consultant at DesignMind. He recently presented "R in Power BI" at SQLSaturday Silicon Valley 2017. He also leads Power BI "Dashboard in a Day workshops" in San Francisco and Sunnyvale. Eric collaborated with our BI Team on this video about Data Visualization with Power BI and R Visuals.
How Do You Prepare for Power BI Dashboard In An Hour?
First you'll use your Windows based laptop to download Power BI Desktop software, which is free. Then you'll download a set of seven data files, including Excel, and .pbix (Power BI) files. That's it. During the workshop, you'll learn about:
The various features of Power BI
How Power BI can turn unrelated sources of data into coherent and interactive insights
How to easily connect to data sources
How to share your visualizations with others on your team
Ideas for easy analytics solutions at your organization
See what our BI Team is writing about Power BI and Data Visualization.