Best Practices for Publishing Interactive Reports and Dashboards on PowerBI.com
One of the most common issues that we've seen with the growth in Power BI implementations is the challenge of managing and editing reports. The problem with Power BI file management is how to make changes to the reports in a reliable manner. We see this in both small and large organizations. Currently Power BI does not provide a means for users to download reports from PowerBI.com that were previously published, or developed, there. The result is that organizations cannot truly own and manage collaborative work on their reports, as each report exists only in Power BI where changes cannot be managed, or lives on an author's computer where it's not readily accessible.
The Solution: OneDrive File Management
One potential solution to this is to use a software version control system to manage your Power BI Desktop report files before publishing them. However taking a developer-centric approach to an issue that spans non-technical roles can hinder adoption, which is paramount.
A better approach is to take advantage of the OneDrive file management feature that is integrated with Power BI groups. This feature provides a central file management repository and integration with Power BI for automatic change deployment.
How To Implement OneDrive Within Power BI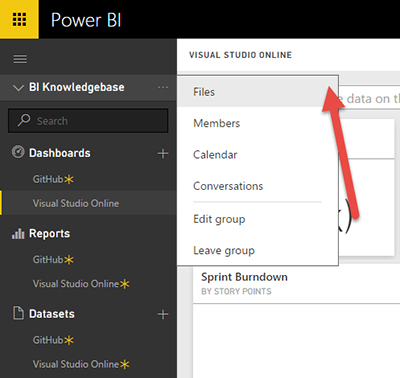 Power BI groups require a Pro subscription, which costs $10 per user monthly. If you don't have a Pro subscription currently, you can start off with the 30 day free trial. Once you have a subscription set up, all you'll need to do is create a Power BI group and add your users. A common approach is to create a single group with all of your users so that all of them will also have access to the OneDrive folder. Then folders can be created for each of the logical areas of your business. e.g. Sales, Supply Chain, Manufacturing, etc. Once your group is set up, click the ellipses (…) next to the group name and select "Files". This will take you directly to your group's OneDrive folder.
To take advantage of the file management features, discuss and refine a process with your users. Before making any changes to a report, they should download the latest version of the report file from this OneDrive folder, then make their changes and upload the file again. This will allow OneDrive to track each version of the file so that you can view when changes were made, and revert back to older versions if necessary.
Publishing New Reports
When you're ready to publish a new report, simply upload it to your file management system in OneDrive. Then use the "Get Data" option in Power BI, and select OneDrive to choose the report to publish. Now, whenever an author makes a change to the report file and uploads the newest version to OneDrive, the changes will automatically propagate to Power BI.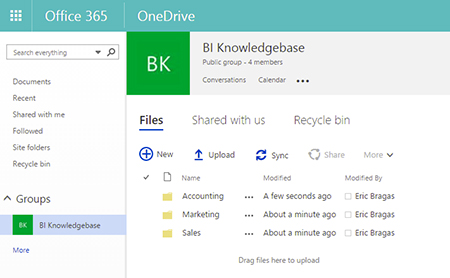 The best way to implement this type of Power BI file management is always going to depend on the people and the processes in your organization. In our experience working with clients, we always recommend determining and refining the most efficient, most lightweight processes possible. In this way, your team can focus on the more creative, and rewarding tasks.
By taking advantage of Power BI groups and OneDrive file management, you can easily improve the authoring and management processes of your organization and focus more on discovering the secrets locked away in your data.
To learn more about Power BI and how to get started, check out my previous article, What is Power BI and Schedule Data Refresh?